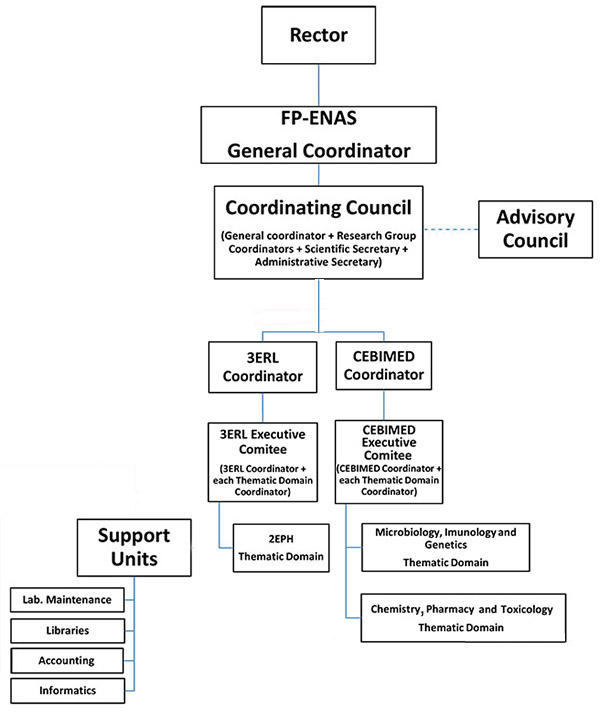 FP-ENAS Research Unit is part of Fundação Fernando Pessoa (FECFP), the owner of the Universidade Fernando Pessoa, and is directed by a General Coordinator appointed by the President of FECFP.
In view of research developments and good governance, the Unit is organized in two Research Groups (3 ERL - Energy, Environment and Environmental & Public Health Research Laboratories; and CEBIMED - Biomedical Research Centre), each directed by a Coordinator, elected by the researchers. Each Research Group may be organized in Thematic Domains, each one with a Themtic Domain Coordinator. Thematic Domain's implementation and existence will be evaluated annually depending on the research programs under development.
The general management of the Unit is under the responsibility of a Coordinating Council composed by the General Coordinator (chair), the two Coordinators of the Research Groups, a Scientific Secretary and an Administrative Secretary.
The Coordinator Council will be assisted, whenever required, by an Advisory Council whose composition is defined in the Statutes.
Current management duties of each Research Group are the responsability of an Research Group Executive Board (composed by the Research Group Coordinator and each Thematic Line Coordinator). The Executive Board uses the services of Supporting University departments such as Lab Maintenance, Libraries, Accounting and Informatics, among others.
See also: